When you decide to place your beloved home up for sale on the Matthews real estate market, the decision is not one that's made lightly, and the process of selling your property can feel overwhelming at times. However, with a little work and some confidence in your expert real estate
agent
, you can feel prepared and move toward your goals without all the stress and uncertainty.
One of the crucial steps to preparing your home for listing is staging it effectively.
What is staging?
Staging is the process of choreographing each room of a home to best highlight its unique appeal. Staging comes after you complete renovations and repairs but before taking professional photos and listing your Matthews home for sale.
When you work with a staging company, you'll gain an expert to help you prepare your home and earn top dollar on the sale. After all, you want to create a space that will look phenomenal and pristine for in-person showings and photographs alike. The photographs of the property need to catch the homebuyer's attention and stand out from other homes on the market. Aside from using a professional photographer, having your home properly staged is the most important aspect of making your photos, and likewise your home, look luxurious. Staging also prepares your home for showings, as buyers will be amazed from the moment they walk through the door.
Follow these tips for staging your home to make it stand out on the market.
Declutter and clean
Homeowners should first eradicate all of the pesky dirt and grime that might have built up over the years. It's a simple but very important step, especially in easily forgotten areas. It's important to scrub the corners and eliminate cobwebs in attics and garages. Places like crown molding and hanging chandeliers can easily gather dust, so pay attention to those areas as well.
Decluttering is also important. This helps buyers focus on the key elements of each room, such as the gorgeous kitchen island and countertops, instead of the miscellaneous items everywhere. Decluttering also allows more natural light to bathe the rooms. This is a great time to start the packing process.
Depersonalize the house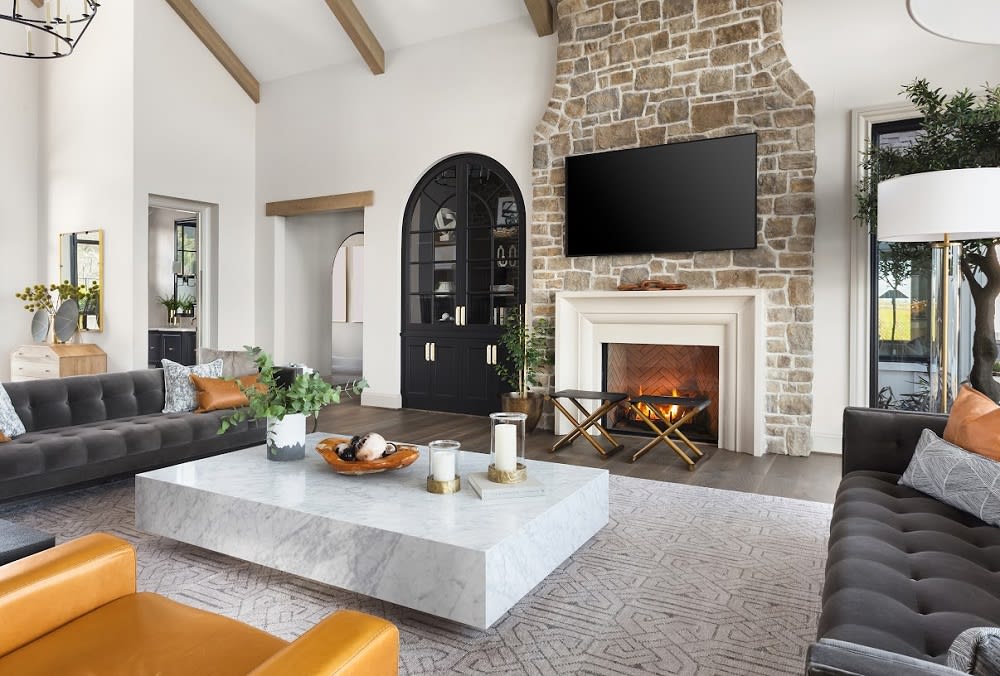 Photo courtesy of Shutterstock
As you are going through each room to reduce clutter, you will also want to start packing away your personal items. All of your photographs, memorabilia, and collections need to be boxed up for the move. Potential buyers are unable to see the space as theirs if they see it as belonging to someone else. They want to imagine themselves in the house, not the previous owner. The best way to do this is by removing the tell-tale signs of your daily life and personal memories. So, you will also want to remove kids' toys and pet items.
While a coffee machine, air fryer, and blender may be essential daily items for you, they are clutter in the eyes of others. The same can be said of too much furniture or of oversized furniture. Buyers want to see potential and possibilities, so each room needs to have enough space for people to walk around easily and for the homebuyer to envision multiple furniture layouts possible. This allows them to visualize their furniture fitting in the space. All of the closets and cupboards need to be pared down so that they feel roomy and spacious.
Don't forget the exterior
The exterior of your home is the first impression any potential buyer will have. It sets the tone for what the buyer can expect from the inside of the home. So, be sure to get the lawn spruced up. If it's summer, have it mown. If it's winter, rake the leaves and tidy up any unsightly, dead weeds. Trim the hedges and trees as well.
If you or your family have bikes, toys, or assorted summer and winter decorations out in the yard (I'm looking at you, Christmas lights), pack them away out of sight. A great tip is to get fences, sidewalks, porches, decks, and patios pressure washed. The difference will certainly stand out to buyers.
When it comes time to stage the home, make sure you stage the outdoor spaces as well. Put the cushions on your outdoor furniture, and string some lights around the deck and patio. You can even add a colorful outdoor rug to create a wonderful sense of space. Outdoor living areas and an outdoor kitchen have become increasingly important to homebuyers of Matthews homes. They want to see usable space for relaxing and entertaining. Creating outdoor spaces also gives the feeling of more square feet.
Target the primary rooms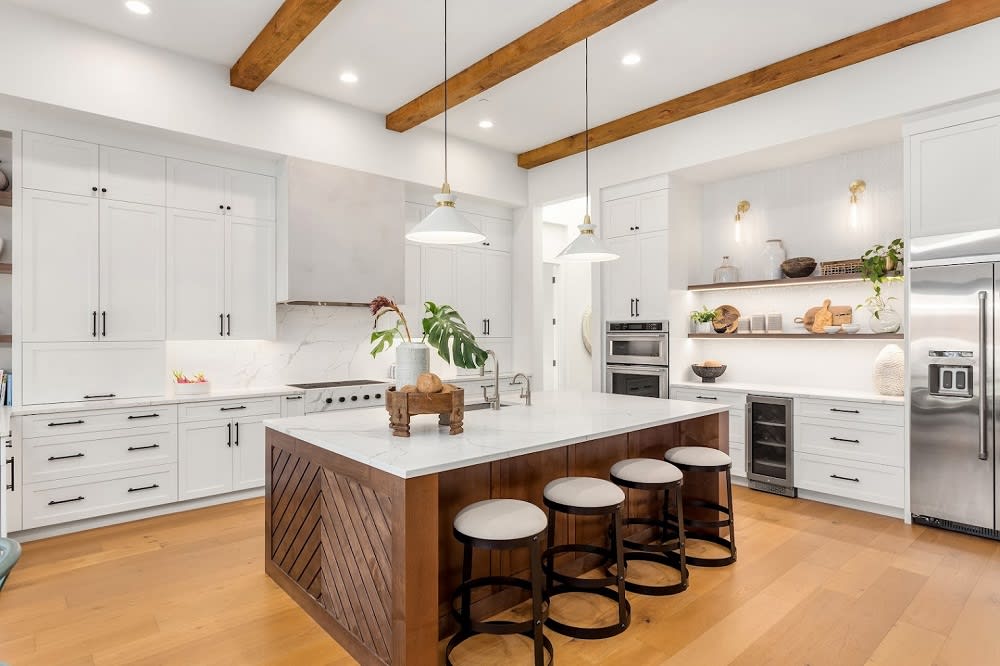 Photo courtesy of Shutterstock
The kitchen, living room, and master bedroom are the most important areas to get right when it comes to staging. These areas are the most lived in and can have the most personality when properly staged. Remove appliances and pare down furniture where possible to make the rooms feel open, airy, and spacious.
Add a pop of color to make the spaces feel lively. Use art to highlight large walls or special features and mirrors to amplify the space and light. Your professional stager will help you choose decor items that will highlight the best features of the home. They will also creatively stage any not-so-great features of the home to maximize their appeal. Large rooms can become cozy and small rooms feel spacious under the talented expertise of a professional stager.
An easy way to make any Matthews home feel welcoming is to brighten up the rooms. Open the blinds and curtains. Utilize lamps and light fixtures strategically to lighten otherwise dark areas.
Working with a Matthews realtor
If you have questions about getting your Matthews real estate ready to sell,
Pamela Roberts
is happy to assist. She is an expert in the local market who is well-versed in the Charlotte area and knows what appeals most to
buyers
. She is happy to answer your questions about the selling process and how she can help you attain the best price for your home. Get started today!
*Header photo courtesy of Shutterstock